What it is like Working in Special Education
Hang on for a minute...we're trying to find some more stories you might like.
Jagur Justen
Opinions Editor
Special education teachers are special themselves, they have the ability to juggle many different individual plans to meet individual student needs. They also have the opportunity of working closely with their students to better those students educational experience and help them succeed.
"
I love it. Can't imagine doing anything else"
— Ericka Ronnings
Special educators have a list of tasks they can do to improve the work of their students. One of which is to develop learning strategies for certain students, so they are able to improve their course work and overall grades. Some special education teachers teach in smaller classrooms, so they are able to meet one-on-one with their students or in small groups, according to the Bureau of Labor Statistics.
"You give more of your attention with individual students," special education teacher Mark McConnell said.
The students who are in the special education program have a form of a learning disability. These disabilities may stem from a neurological disorder that can be genetic, according to the American Speech-Language-Hearing Association (ASHA). This explains a student's struggle to write, comprehend or read. School psychologists play a key part in determining if a student qualifies for special education services. Orono High School psychologist Ericka Ronnings said that she meets with students who are in special education and assesses the needs each individual has.
"I love it. Can't imagine doing anything else," Ronnings said.
Those who are in special education have an individualized education program (IEP). A student could also have a 504, which enables a child to have accommodations to support their learning without one on one support. There are person-centered practices that ensure that individuals with disabilities have the same rights as others, according to the Minnesota Department of Education. If a student struggles in school, that does not necessarily mean that they have a learning disability and qualify for special education, according to author Meryl Loonin.
There are three main skills that a special education teacher should have to help their students in school: patience, creativity, and flexibility. Patience allows students to learn at their own rate. Teachers create welcoming environments to make strong bonds with their students. The teachers are flexible because they have the ability to use different teaching methods to match each individual's learning styles.
"I believe you have to be very good at making personal connections with students. I think you have to be patient…I think you have to be adaptable," social studies teacher Jeff Aman said.
For special education teacher Lee Starr, her job is something special to her. She grew up with an older sister who had a learning disability.
"I knew I wanted to help people," Starr said.
Starr assists her students in a variety of ways. Usually it is helping with completing projects and writing assignments. Having a smaller classroom allows her to build stronger relationships because she gets more time to work one on one with each individual.
McConnell said that he feels a sense of reward knowing that after each day, he has helped a student improve their performance.

About the Contributor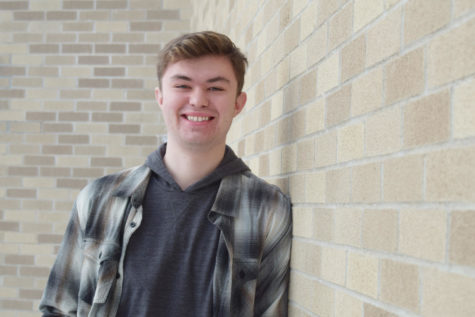 Jagur Justen, Opinions Editor
Hi, I'm Jagur Justen. I am an opinions editor for the Spartan Speaks. I am part of the backstage crew for theater productions. I am not a big fan of writing,...