Sunflower Bean Debuts Shoegaze Album "Twentytwo in Blue"
Hang on for a minute...we're trying to find some more stories you might like.
Alt-rock sensations Sunflower Bean debuted their second full-length album on March 23. "Twentytwo in Blue" is a mellow yet melodic coming-of-age album for the rock trio. Having not released any new material since 2016, the band's eagerness and musical energy are boundless in the creation and release of this eleven track LP, or full length album.
The band, consisting of Julia Cummings, Nick Kivlen, and Jacob Faber, blossomed in Brooklyn, New York. It originated while the trio were still in high school as of 2013, according to Mom+Pop Record Label. They released their first EP, or half of a full length album, "Show Me Your Seven Secrets" two years after forming the band and began embarking on tours across the United States.
Due to their success, they were picked up by Fat Possum Records early on in their career. However, they moved on to Mom+Pop Record Label for releasing their latest album, according to Mom+Pop Record Label's website.
Their unique sound combines distorted guitar and bass sounds creating psychedelic melodies. Cumming brings the band together with her one of a kind edgy vocals. Their early work seems to accurately reflect their not so secretive teenage angst. Grinding the sounds of their instruments together, the band is known for their modern grit and heavy garage rock sound.
However, "Twentytwo in Blue" strays from this preconceived notion of who the members of Sunflower Bean are as musicians. This album wanders down a much more melodic shoegaze path, unlike their previous releases. This means that in the recording of the songs, the musical instruments and vocalization seemingly blend together. It is apparent that the band spent a great amount of time writing, producing and fine tuning this record as it displays their hard work.
Songs like "Twentytwo" and "Only A Moment" are softer and sweeter than most of their previous work. Combining new elements like tambourine and backing string sections, it's obvious in these songs that the band has instrumentally widened their horizon. The guitar playing is focused more on softer soloing and melodic rhythm sections, rather than their previous use of solely heavy guitar distortion.
Julia's writing style has progressed as she sings, "If I could do it I would take her in my arms/ I would unwrong all his wrongs/ I could stay here and write a thousand songs/ just to show her that the stars still come out behind the fog." This is only a tiny sliver of lyrical sophistication present on this album.
She also sings about themes such as growing up and reflecting back on previous events in songs like "I Was a Fool." This album no doubt shows the thoughtful side to Sunflower Bean's writing ability and image.
Combining their rock edge with their obvious passion for making and playing music, the band has had no trouble being picked up for tours and festivals. Ticket sales have gone hand in hand with record sales and overall listeners. The band has over 282,000 monthly listeners on Spotify, according to Spotify's website.
Sunflower Bean will make their way to the Midwest during the summer portion of their album promotion tour. I would recommend grabbing tickets to go see this talented young band play an 18+ show at 7th Street Entry in Minneapolis. The show takes place on June 27 and costs $14 per ticket, according to First Avenue's website.
Overall, I would give this album a 9/10 rating as I enjoyed it extensively. If the band blended a couple of their song transitions together, leaving no space between tracks, it would have made the record even better. You can find "Twentytwo in Blue"on all music streaming sites such as iTunes, Spotify and Bandcamp. It is available for purchase for around $9.99, according to iTunes. Special edition colored vinyl copies are also available online for order around $20.

About the Writer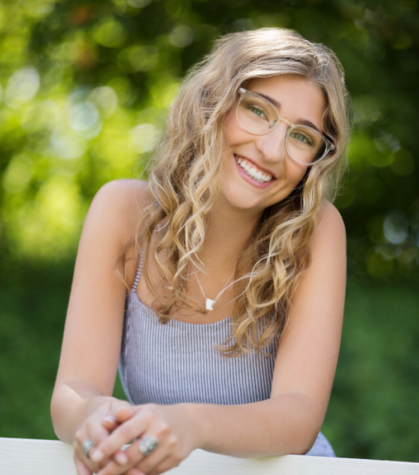 Ellie Burr, Opinions Editor
Hi, I'm Ellie Burr and I am a Copy Editor on The Spartan Speaks this year! This is my first year on the staff, and I have thoroughly enjoyed it! I have...