OHS theater to present Our Town
Hang on for a minute...we're trying to find some more stories you might like.
The OHS Drama Department will perform Thornton Wilder's Our Town beginning on April 26. The play focuses on protagonist Emily Webb played by junior Amanda Marquis, and the people closest to her. The story begins in Grover's Corners, New Hampshire and focuses on the typical day of its residents for the first part, giving Act I the name "Daily Life."
"
It is an excellent play that is honest to the viewer"
— Emma Schulte
As Emily progresses through adolescence, she begins to learn more about herself, what she wants, and who she wants to be with. Act II, dubbed "Love and Marriage," deals with the romantic relationship of Grover's Corners residents Emily and George Gibbs played by sophomore Wels Bowen.
The play follows Emily into her marriage to George, and eventually her death and difficult acceptance of death. Act III, "Death and Eternity," follows Emily's journey into the afterlife.
"It is an excellent play that is honest to the viewer," freshmen and crew member Emma Schulte said.
This raw honesty has proven to be a new and exciting challenge for the actors.
"I've never played a character as real as Emily. I would say playing a real person is much harder than playing a character. To become her I had to take experiences from my own life to use for difficult scenes," Marquis said. "Playing Emily has definitely made me grow as an actress. I also like to take the lessons we learn from the show and use them in my own life."
"Being triple-casted has been a new experience because I am responsible for a lot more in different scenes. I also have to make sure there is a very noticeable change between the characters I play, which has been a fun challenge," senior Ryan Paul said.
The general consensus among play participants was that Our Town is a worthwhile and relevant story to perform due to its unembellished and realistic depiction of the human experience.
"This one, I think, will be relatable to most -if not all- of the audience members. The little experiences that the characters go through, the lesson that they learn, the emotions that they feel, are all things that the audience will most likely be able to relate to," junior and stage manager Aislinn Mobley said.
The cast and crew encourage all to come experience the beauty of Our Town. The performances are on April 26, 27 and 28 at 7 p.m. and April 28 at 2 p.m. Tickets are available at the door and online at https://www.eventbrite.com/o/orono-high-school-10962356071.

About the Contributor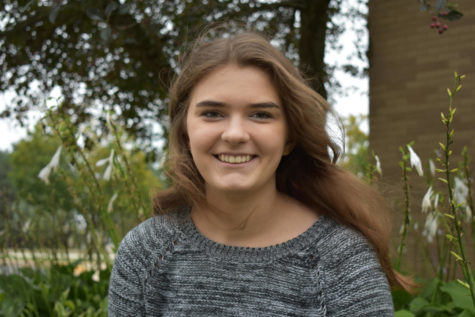 Kristin Pearson, Visuals Editor
My name is Kristin Pearson. I am a Visuals Editor of The Spartan Speaks. I am a senior and I love newspaper, yearbook, and theater.