Revived by Revival
Hang on for a minute...we're trying to find some more stories you might like.
Fans anxiously waited for the day rapper Marshall Mathers, better known as Eminem, was going to drop his ninth studio album, Revival. The drought finally ended on Dec. 15, 2017 when he released his 18 track album.
Eminem is most famous for his hit singles "Not Afraid" and "Lose Yourself." Many people held high expectations for the best-selling hip hop artist of all time's album. Some had doubts because of his age and absence from the game. But to no surprise, Revival immediately went to no. 1 on Billboard 200, making Revival his eighth consecutive album in a row to hit no. 1, a feat that had never been done before.
Eminem himself warned fans on Revival's first single "Walk On Water" that his new music was going to sound different from his old songs. Since his first album dropped in 1999, and even before, the rapper has had many serious experiences. He's endured an abusive wife, being bullied during grade school and homelessness; he's faced drug addiction, depression, suicidal thoughts and the loss of his uncle. Most difficult of them all was the loss of his best friend and rapper Proof (Deshaun Holton). The events he was going through shaped what his lyrics meant at the time.
Eminem's old songs tended to be about rage, revenge, heartbreak and drugs, but also inspiration, love for his daughters and his current life situations. His lyrics always seem to reflect what is going on in his life at the time. Now Eminem is not as out in the public as he used to be, he's fully grieved his best friend's death and he's overcome his drug addiction. So what is Revival all about?
Every song on Revival sounds different. The songs tell a story. "Believe" is the second track and its beat instantly hooks the listener in. Eminem has fun with his rhymes in tracks such as "Offended." Some tracks are comical while others are serious. Eminem even apologizes to his ex-wife Kim. The most sentimental song is the last track "Arose." In this song, he reaches out and dedicates it to his daughters that he loves so much.
Most of all, Revival shows maturity. Revival sounds different than all of his other albums because Eminem has gone through experiences that have matured him. However, that in no way makes his raps any less amazing. Eminem's wordplay and speed is jaw dropping. His ability to open himself up to everyone shows his vulnerability and personal growth. It makes him seem more like a human and less like a godlike figure. He is just having fun with his skill and it's apparent that he is much happier now based off of his playfulness in Revival.
I would honestly give Revival 8.5/10 stars. I have listened to every Eminem album all the way through and it is right up there with my favorites (Encore and Recovery). If you go into listening to Revival like it's Eminem's old music, you will definitely be let down, but it's important to remember that artists change, mature and try new things. What many people and critics do not understand is that Revival is Eminem trying out new styles. Those who listen to Revival with an open mind are sure to like it.
Revival is an album that can you laugh, cry, think, smile or help you through a tough situation. If you want to be revived, I recommend getting revived with Revival.

About the Writer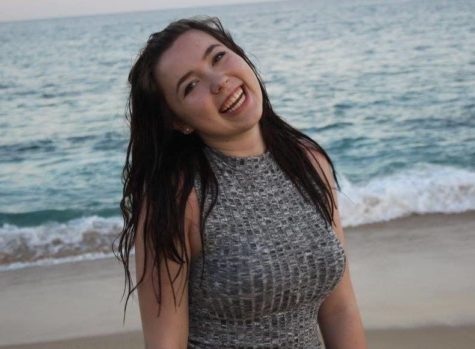 Hannah Rippberger, Visuals Editor
Hi everyone my name is Hannah Rippberger and I am senior this year. This going to be my third and final year on the Spartan Speaks Newspaper. I am excited...