OHS alum publishes critically acclaimed first novel
Fabiaschi visits OMS to meet with teachers, students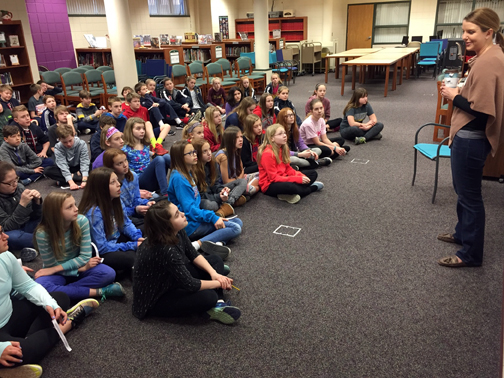 Hang on for a minute...we're trying to find some more stories you might like.
After recently publishing her critically acclaimed novel I Liked My Life, Abby Fabiaschi sat on a red plaid throne of accomplished childhood dreams. Her kingdom — Bay Books, an indie book shop in Excelsior — stretched around her, with walls of wooden bookshelves brimming over with color. As she sat behind a table signing books, former classmates and Orono Middle School teachers Laurie Jensen and Pam Brinkhaus waited  in line to talk to her while sharing smiles and school memories.

"Everything that came out of her mouth was funny, witty, and insightful — and that's how her writing is too," eighth grade science teacher Pam Brinkhaus said, remembering when Fabiaschi was one of her students.
Fabiaschi provides hope to those still in the world of desks and standardized tests that dreams can come true. Not only did she accomplish her long-awaited goal of becoming a writer, but she did so with flourishing success.

I Liked My Life is an insightful debut novel that follows a father and daughter who navigate the difficulties of losing a loved one to suicide. With poignant words worthy of being uttered by the mentor archetype in a fantasy novel, wisdom on relationships and grief are seamlessly interwoven between the changing perspective of the mother above, and the perspectives of her husband and daughter who she left behind.
Back at Bay Books, the blue door was propped open, letting sunshine and laughter trickle through in a leisurely Sunday morning kind-of-a-way. In spite of the picturesque setting, Fabiaschi took on a serious expression that alluded to the years of hard lessons that filter into her pages.

"There are slivers of beauty in life's most agonizing moments," Fabiaschi said. "That's what the book is about to me."
Despite only being out since Jan. 31, I Liked My Life  has already achieved a 5-star rating on Amazon, and has had positive reviews from both The Washington Post and The Associated Press. Before it was published by St. Martin's Press and displayed on the shelves, Fabiaschi's manuscript was in a bidding war between four major publishing houses. Fabiaschi said the book has resonated with even more people than she had expected.

"I've been so overjoyed by how many emails I've been getting from people in high school. It's really wonderful," Fabiaschi said.

The writing of her first novel spanned over a decade, although altogether she says it took about two-and-a-half years worth of effort. Her first draft, which later went through ten major revisions, was written when she was 24. After seven years, she returned to it with a better sense of marriage and parenthood–both themes that play a central role in the book.
Although I Liked My Life is a work of fiction, Fabiaschi said she writes from experience. When she was attending Orono High School, she lost one of her closest friends — a world-shifting event that eventually translated into her published work and made her write even more.
"I've lost some of my greatest mentors and friends at young ages, and this book gave me an opportunity to come to believe something that I felt for a long time, which is that they're still with me," Fabiaschi said.
To those who have experienced suffering, Fabiaschi's words can help make sense of anguish; for those who haven't, her words still stir up eye-opening perspective and reflection. But her influence doesn't stop there – especially not for Orono students. Her own life story serves as inspiration of what we are all capable of, and what we can achieve if we go about it in a realistic way.
In high school, Fabiaschi said she was already developing a relationship with words — constantly scrawling out stories and journals and absorbing books until she began to develop a sense of what worked for her. Regardless, she went to a business college and pursued a technology career before clamping down on her lifelong dream. Fabiaschi said she wrote on the side until her book sold and she was able to comfortably quit her job.
"I do think that not pursuing your dream right away doesn't mean you can't pursue it down the road," Fabiaschi said. She learned to look at every rejection as feedback because each time her book was passed on, she was given critiques to make it better.
Fabiaschi's life story is one of someone who had to face the bitter underbelly of life too many times, but developed resilience and clarity in response. She said she rose above her tragedies and continued to work toward her overarching goal in a realistic way, until she found success.
She said she also finds solace in giving back. As director of the board for Made By Survivors, Fabiaschi works to uplift victims of sex trafficking and abuse. Twenty percent of the proceeds from I Liked My Life will go directly to charities that benefit children and women across the globe.
During her Minnesota visit, Fabiaschi took time to discuss her novel with an Orono Middle School faculty book club and students.
After hearing that Fabiaschi would be stopping in Minnesota, Jensen — who coached Fabiaschi on the varsity volleyball team — was able to orchestrate a meeting between Fabiaschi and the staff. Afterwards, Fabiaschi spoke in front of the sixth graders for a Q & A session about her book and writing process.
"It's crazy to see how much patience she had for herself, and how she never gave up on herself," OMS sixth grader Lucy Barnes said.
Fabiaschi would have graduated from Orono High School in 1998, but she moved to a boarding school her senior year. Her return here was one stop on her book tour, but it was also a trip to the past — to the place where one turning point in her life journey occurred.
"Coming back here cements something that I always loved about it: the community. You really start to appreciate, the older you get, what a wonderful school Orono is, how loving and committed all of the teachers and families and parents of your friends are to looking after all of us and raising you," Fabiaschi said.
Fabiaschi walked the same tiled halls as those of us still in school, but she left a glimmering path towards the possibilities that life after these four years can offer. From fulfilling her unlikely aspirations to finding happiness above the pain and finding ways to infuse more kindness into the world, Fabiaschi has proven what OHS students have the potential to achieve.
"Know and trust that your future is going to change constantly, and it's going to be beautiful and wonderful," Fabiaschi said. "This is just the beginning."